Celebrity W.T.F's Volume 182
Mariah Carey is so impressed with the California wine that bears her name, she has invested in the vineyard that produces it. She tried the winery's
Mariah
Zinfandel after learning about its existence and now it's her favourite drink. Her rep tells American magazine In Touch, "Mariah enjoys this wine very much. She serves it often."
Mariah is so in love with herself she would love anything with her name on it. Looks like she loves wine. Her hand seems to be in the perma wine glass holding mode.
There's trouble in Brangelina paradise. Sources say they recently had a big fight and Angelina apparently scooped up Maddox and Zahara and stormed out of the apartment, taking four hours to calm down.
"Brad says it's like he can do nothing right these days," a source tells Star magazine. "They argue about everything, from his cigarette smoking to world politics to how much he loves her! And apparently Angelina has told him she's getting tired of his whining and possessiveness."
Gee...who could the "source" be? Hmm. I wonder.
Kevin Federline has a name for his first album. Due to be released in August, it will be called Playing With Fire. In a statement released through his publicist Kevin says, "The inspiration and meaning behind the title is self explanatory, (because) my album is sure to set the dance floors across the world on fire!"
Yeah but, only because all the D.J's will be putting a matchbox and some gasoline to his horrible cd!
Jessica Simpson is considering adopting a child, her publicist, Rob Shuter, has confirmed. "Nothing has been finalized yet," Shuter, who was asked when and how Simpson would adopt, told the Associated Press on Tuesday. He added, "It is true that she's exploring options."
Jessica also recently told TV's Extra: "I want to adopt, and I plan to adopt before I have my own kids. "
Oh please. Everyone knows how badly Nick wanted kids and she didn't. She is just trying to get a leg up on Nick. Jessica can't even remember where her dog Daisy is half the time....and she is going to adopt a child???
Katie Holmes is going to have her baby in total quiet in accordance with a bizarre Scientology tradition. To help her, her fiance Tom Cruise bought a hi-tech iPod and handpicked over 300 tracks to help Katie keep mum.
A source told Britain's The Sun newspaper: "Tom wants her to listen to music through her earphones so there's no noise in the delivery room."
Ooh, such songs as "Push It" by Salt N Pepa, "Shutup" by Black Eyed Peas and "Love Hurts" by Nazareth are a good start.
Pamela Anderson wants to meet with Canadian Prime Minister Stephen Harper. The Canadian actress is heading a petition against her homeland's seal slaughter and has written to Harper, cautioning him not to turn a deaf ear to the international outcry that is building against the seal kill. Pam will be in Canada this weekend to host the Juno Awards and plans on meeting Harper on Monday.
Don't forget to wear a tight top Pam. Stephen Harper will later be asked how the meeting with Pam went and he'll probably say, "Seals? What seals?"
Michael Douglas is enjoying watching his wife Catherine Zeta-Jones' career become more and more successful. He says, "I did a lot of pictures where I was in every single scene. My wife is doing it now for the first time and I'm smiling. She is an accomplished actress and she's a lot younger than I am. She's going to have her time in the spotlight."
This would be really endearing that Michael loves to watch his wife's career grow....only if he hadn't once said how he enjoyed watching her breasts grow while she was pregnant.
Michael Jackson is planning a massive image makeover. Michael discussed his comeback with DJ Whoo Kid when the pair met in the Gulf state of Bahrain, where Jackson has been living since he was acquitted of child molestation last year.
Whoo kid reveals, "I told him he needs to cut his hair, get some million-dollar earrings, get a million-dollar watch and take all them spaceship clothes off. Michael said, 'I have to change my whole outlook.' He said he was trying to work out."
Apparently Michael's new look will turn him into a muscular rapper with a shaved head.
What's another nip and tuck?
Always a good idea to let a suspected pediophile get a whole new identity. NOT.
MAGAZINE SCANS
OK! Magazine says Brangelina's rushing off to a secret baby hideaway? I thought the baby's hideaway was Angelina's womb? What do I know..
IN TOUCH says Jessica's adopting and Kevin Federline has a job. HA ha ha ha ha..now that's funny!
US WEEKLY says Jessica's got a new love. Who's got time to adopt? Ooh and Patrick Dempsey wants a second child. Where do I sign up?
LIFE & STYLE Claims Britney had to be rushed to the hospital after partying with Kevin......yeah, the psyche ward!
STAR Magazine says Nick and Jessica are back together.
I guess the adoption is off.
OUT AND ABOUT.....
Ashley Judd is pretty as ever in pigtails
Is that a hammer in Fergie's pocket or is she just happy to see us?
Britney hangs out with the "little" people....literally at Kevin's birthday party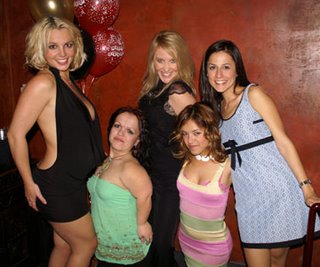 Kevin smiles politely as his left thigh falls asleep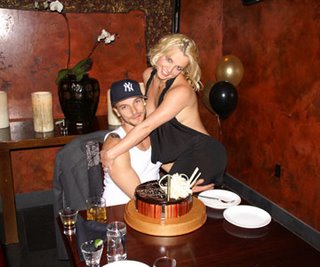 Tori Spelling looks like she got yet another set of implants
Well, when you have a face only your multi millionaire parents could love - you need other body parts to distract away from it.
Maddox and mummy out for a walk
Braddy's growing a biker moustache
Courtney Cox and hubby David Arquette. Rumor has it she's pregnant again!
Drew Barrymore and her beau Fabrizio out and about
Heather Locklear and her estranged hubby Richie Sambora reunite for appearance purposes only at their daughter's baseball game. No, Heather did not break his arm. He fell and broke it or something nuts
Brooke Shields is very very pregnant. And she can yell all she wants when she gives birth
If the Apple doesn't fall far from the tree.....where is Gwyneth??
Julia Roberts signs autographs at the premiere of the Broadway play she stars in
Nicole Richie reminds me of that SKIPPER barbie they used to have that was completely flat chested until you pulled her arm back and she sprouted breasts. Anyone remember that?
Nicole and Keith are dressing alike now. Yikes.
The real MR AND MRS Smith
Ryan Seacrest and Teri Hatcher are dating. That proves it...he's not gay
He just happens to like women who have the body of a nine year old boy.....hmmmm
Nick Lachey is looking like Kevin Federline these days....not good he's only going to attract trailer park girls if he keeps this up
CUZ I SAID SO!!