Celebrity W.T.F's Volume 163
Wednesday's episode of The Tyra Banks Show, (March 1) will feature the host going undercover as a stripper in a topless club all in the name of research. On the special episode, Tyra will wear a wig, fake teeth, prosthetic nose and tons of makeup to transform herself into a dancer named "Chanel."
Tyra explained why she felt it was so important to do this by saying, "I wanted to see why they went. And the only way to do that was to go undercover and see for myself."
Last month Tyra went undercover as a Vegas showgirl. Sounds to me like she is looking for any excuse to take her top off these days. Let me guess - next week she'll show you how to do your own mammagram from the comfort of your home.
Paris Hilton wants to warn Charlize Theron that she might be stealing all the good upcoming movie roles soon. Paris explains, "My acting coach told me I have a similar style of acting to her so we may end up vying for the same parts."
Yeah except that Charlize has won an Oscar and been nominated for yet another one. The only hope in hell Paris ever has of receiving an award for a performance on film is from the ADULT VIDEO AWARDS....And even they didn't nominate her.
Bobby Brown has hinted his wife Whitney Houston is pregnant with their second child. While being interviewed for the Magazine "Sister 2 Sister",
He told the publication: "I'm hoping that she's pregnant right now... She's just resting."
In other words, the last time he saw his wife she was passed out on the kitchen floor. She usually doesn't make it that far. Bobby figured she must of been craving something. Thus, she is pregnant. Or...Bobby was high again and talking crap.
Britney Spears went back to her home town of Louisiana to cheer up four students whose lives were severely affected by Hurricane Katrina six months ago. Talking to Good Morning America Britney said, "It was an honor to be here with all of them."
Britney also also gave the girls pins on blue ribbons and brought them gift bags with CDs, DVDs and shoes sent by Capezio.
Wow those girls must of been so thrilled. I know if I lost my home, all my personal belongings and had to start from scratch it would all be ok if I got to meet Britney Spears. She would bring me CD'S to play on my non-existant CD player.
Arggghh.
Eva Longoria is desperate for a baby. She told Britain's "NEW WOMAN" Magazine, "I want ten children and I can't wait. When I get married and get pregnant, hopefully Gabrielle (my character) will get pregnant too."
She realizes that if she gets pregnant she will eventually lose bragging rights to being a DOUBLE size ZERO right?
Mischa Barton can't understand why men find her attractive because she doesn't consider herself to be sexy at all. She says her O.C co-star Rachel Bilson is far sexier than she is.
She told Britain's Top of the Pops magazine: "Rachel is way more overtly sexual than I am. I'm so tall and lanky. I think I'd be scared of having her voluptuousness. I like being understatedly sexual."
Mischa is not ugly but, standing next to Rachel she does look like an awkward giraffe. No argument here Mischa - you are right.
George Michael not only had drugs in his car when he was arrested for possession yesterday....he also had sex toys . Police found bizarre headgear, used in bondage, in the vehicle along with the marijuana that led to George's arrest. The singer had been found slumped over the wheel of his Mercedes. When questioned George said, "The only thing I care about is that people know I was NOT driving under the influence of any drugs"
Oh Yeah? Then how do you explain the empty pizza box, tub of Ben and Jerry's, two crumpled bags of Doritos and half eaten corn dog in the passenger seat?
P Diddy is in Brazil, enjoying Carnival. Maybe a little too much. He was spotted by reporters visiting a section of the main city known for its low-priced call girls.
A source said, "The name of the place is 'Help' and the girls there are supposed to be the cheapest prostitutes in the city."
This gives new meaning to the term cheap thrills. He's gonna wake up red, sore, itchy and broke.
Alicia Keys says she had to downplay her looks while she was growing up gang-infested neighbourhood, just to avoid being attacked. The area in NY where she was raised was overrun by prostitutes, drug dealers and gangs.
She explains, "I grew up in an area that was pretty rough, if I came across as too slutty or sexy or showed too much, it would cause a lot of problems. That's why I called myself a tomboy, because I was always covered. I had to protect myself."
Obviously, Mariah Carey grew up in another part of town.
Alicia always looks so pretty.
Fox's hit drama Prison Break returns Monday, March 20. The show is already setting the stage for a second round of surprizing revelations. In an episode slated to air April 3, the series will dig back into the pasts of the main characters and offer clues about what their futures will he when they break out
I don't want to spoil it or anything but, it will be revealed that Scofield wants to break out really badly to come and see me. Yes, that's right. Me.
Hey, my blog....my story.
MAGAZINE SCANS
According to the STAR Britney is Fed up with K Fed and Jennifer Aniston is preggers.
Charlize looks pretty on the cover of AMICA.
Cillian Miller otherwise known as the creepy guy from the movie "RED EYE" does a photo shoot.
VANIDAD Magazine must of been desperate this month...cover girl is Victoria Beckham.
Here's Victoria again. This picture creeps me out. Reminds me of "A CLOCKWORK ORANGE"
Jessica Simpson on the cover of "W. Finally, a magazine she can pronounce!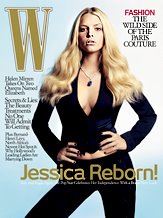 OUT AND ABOUT...
Catherine Zeta-Jones makes nice with the paparrazzi.
Tom now has Katie running around Tahitti with him and his children. I guess when he said he wanted her bed ridden in her last trimester he meant only when he couldn't be with her. Poor Katie, she is waddling up the stairs trying to catch up with Connor and Isabella. This brings a whole new meaning to STEP mother....hee hee.
Turns out Penelope Cruz is the ugly one in the family. Her sister is gorgeous!
Priscilla Presley looks like the living dead. Maybe she should get a little nip to liven her up a bit. NOT.
Oh look, it's the paperboy collecting money on his route. Oops, sorry....It's Sienna Miller. Easy mistake.
Jessica Simpson on the set of her new movie. She heard they were filming on a baseball diamond. I bet you she is looking for it.
Janice Dickinson is ever so classy at a fundraising event.
Clive Owen is officially a Hollywood Star. He's at STARBUCKS.
Braddy's adorable face only to be surpassed by the cutie Zahara.
Meanwhile Angelina and Maddox hang out at the park. Hey Angelina!!! Be careful!!! Looks like Courtney Love is stalking you??? (Who the heck is that freakish blonde woman in the background?)
Paris on the set of THE SIMPLE LIFE
And Nicole Richie who is also on the set. Uh, another set actually. They will not be filming any scenes together.
Kimora Simmons at her book signing.
Avril Lavigne and her SUM 41 boyfriend Derrick take to the streets. She is looking more and more Hollywood and less Napanee everyday.
More Britney in New Orleans. Notice she has no beads. Nobody wants to see her boobs anymore exept her baby. Only cuz he's hungry!
And even more of Britney waving. Too bad she wasn't waving bye to her useless gangsta hubby.
Ashlee Simpson going to get her hair did.
Anna Nicole Smith outside of court. She is fighting for her ex-husbands million dollars fortune. Thus the reason she is covered up and trying to look respectable. She even didn't do coke in order to look more professional and coherent.
Don't bother straining your eyes. Her shirt says DON'T BELIEVE THE RUMORS. What rumors? That she's a skank who never wears a bra?
CUZ I SAID SO!