Celebrity W.T.F's Volume 128
Lindsay Lohan, Kate Moss and a couple of female friends went to SCORES strip joint where the giggling group ordered round after round of vodka shots and beer. Their table was immediately swarmed by female strippers. Lindsay and Kate enjoyed numerous lap dances. But, the fun really started when Kate jumped on the stage and began grinding against a pole. A witness in the club reported, "After a few songs, Lindsay jumped on stage with her. They were swinging on the pole with their arms around each other's waists, kissing each other, caressing each other, just acting like strippers. The crowd was cheering them on the whole time. They didn't take off any clothes, but it was very hot."
Maybe that wasn't a pole. Maybe Nicole Richie was on stage too and they were swinging around her. I mean really...who cares anyway. Stuff like this happens on Jerry Springer every day. Big deal.
F.Y.I - Coincidentally Kate Moss does play a stripper in the White Stripes video "I just don't know what to do with myself" - the song frickin rocks!
Liz Hurley loves food so much she takes cook books to bed to stare at the pictures. The model/actress admits she gets excited by the snaps of the sumptuous dishes and loves to study each individual photo before going to sleep.
Now that turned me on. All I can think about is a big ole piece of decadent chocolate wrapped in succulent whip cream, caramel and thick gobs of fudge with bits of little cookie pieces.
Was it good for you too?
Queen Latifah likes to keep herself plump by eating huge plates of food every day. She also insists she would never diet and has no desire to be a typically tiny Hollywood star.
She said: "Look, I am never going to be a stick-thin Halle Berry, so I'm cool about that. I like to eat a meal! I like anything that puts weight on me. I am not one to turn down macaroni and cheese, even late at night. I love Italian food. I love pasta. And give me Indian food! I get bored with yogurts and broccoli. A refrigerator full of water? Honey, that's just not gonna happen."
You grow girl!
Mary-Kate Olsen has already bought her engagement ring. The $250,000 vintage ring is just waiting for the right guy to come along and put it on her finger. You see, Mary-Kate's not even dating anyone at the moment.
A friend of her explained, "Mary-Kate hasn't worn the ring yet. She keeps it tucked away in her jewelry box, but she takes it out to show her friends and she looks at it all the time, too. It's breathtaking."
So....she doesn't just dress like a crazy person...she really is one! I shudder to think of the trunk she's got tucked away with clothes, toys and a scrap book for the baby who is yet to be conceived.
Naomi Watts was mortified when she fell down a hole exposing her panties. The actress was walking along a street when she suddenly tripped backwards down a hole in the pavement landing with her legs in the air. She told Britain's Heat magazine, "Once, I fell down a hole backwards and my legs were up in the air. All I could think about was that my underwear was on display!"
I don't worry about those types of things because I don't wear underwear. Seriously though. I bet Naomi made one construction site pretty happy that day. Guido, Pasquale and Tony are still talking about it...
According to court documents, Nick Lachey has sued Jessica Simpson for ending their marriage three months before the pair contractually agreed to stay together. Apparently he signed over all royalties from '98 Degrees' songs, his appearance on an MTV reality show to promote her albums and perfume line all in exchange for 41 months of marriage that would keep him in the public spotlight. Lachey's attorney explained, "The couple has been married only 38 months and Ms. Simpson is in violation of the contract, ending the union early."
Ooh, Nick went and got himself a good lawyer! And if that fails...he could sue her for putting him through emotional turmoil with her stupid tuna/chicken questions or buffalo wing inquiries. He could also get her on gross indecency with her burping and farting episodes too.
More Jessica and Nick news....according to STAR Magazine, Nick recently got a late night call from his ex Jessica. The insider claims that during the call Jessica talked in a baby voice, saying things like "Whatcha doing? Where are you?" and "I miss you, sweetie." Other sources claim she has called Nick several times and each time she's been very emotional.
If she's using that same baby coo coo whiny voice she uses in her "Boots" song than I really feel sorry for poor Nick.
That is annoying and reason enough for a divorce if you ask me.
Nicole Richie abandoned her hosting duties at a party where her ex-fiancé DJ AM was in attendance also...and reportedly left fuming! The story goes that apparently, her ex was ''being cold to her and flirting with other girls.''
Uh...duh, ofcourse he was. Broken up means you are no longer together. Means he can do what he wants with who he wants now. Obviously, Nicole is behaving irrationally because she is lacking nutrients to her brain. Queen Latifah would never behave like this.
Madonna is hoping for an eternal life because she likes the idea of reincarnation. The Kabbalah follower admits she turned her back on Catholicism because there was nothing consoling about the religion and she wanted something more.
She says, "The thought of eternal life appeals to me. I don't think people's energy just disappears. I hope by the time it's my moment to leave this world physically, I'll have gotten my head around the idea that life is an endless cycle."
I don't know what she is looking so forward to? I figure her next life is gonna be pretty damn boring compare to this one.
Frances Bean Cobain(daughter of Kurt Cobain and Courtney Love) recently revealed in an interview with i-D magazine,
"Sometimes I wish I wasn't so much at home alone and that it wasn't about nannies and chauffeurs and all that stuff. I get to meet everyone I want and I get quite a lot of attention because of it, you know? But of course it hurts when you see a lot of lies about her in tabloids and then you think, 'Well, it's not that cool to have a cool mom.' I don't like seeing my mom upset. No one does, right?"
What lies? Courtney's a drunken ho? You mean she's not? Oh, just a
very
friendly girl with a drug problem...well , that's something entirely different.
Our apologies Frances.
Hey, the kid does get bonus points for trying to defend her train wreck mother. Someone has to.
Sienna Miller has some words for Daisy Wright, the nanny who had an affair with then-fiancé Jude Law, in a new interview. "I'm quite looking forward to the day when our paths will cross, which I know they will," she told
Interview
magazine. "She better live in fear. I just hope she doesn't run into me in a dark alley."
What exactly would a nanny be doing in a dark alley? If Sienna wants to kick her ass she should go to a park during the day or to a kiddie pool.
Tom Cruise and Katie Holmes have promised to name their unborn baby Dellen...after talk show host Ellen Degeneres offered her services as babysitter. The two were on her show and joked about naming the baby after Ellen following Degenere's generous offer to watch the baby for free.
Ellen said to them, "Send it over because, babysitting I think is like $12.00 an hour. And they will take advantage of you for like $15.00."
They who? Aliens? I'll say one thing. The only person in Hollywood who doesn't have to worry about her husband sleeping with the sitter or the nanny...is Katie Holmes. Unless ofcourse the nanny is a manny.
Cameron Diaz is still waiting for an engagement ring from Justin Timberlake, days after the pair decided to wed. According to rumors, Justin failed to get down on one knee to propose to the Cameron after the two decided to wed after a long discussion about their future. A source revealed to America's E! Online website: "Justin didn't get down on his knee. They were just talking about it and were kind of like, 'Yep, let's do it.' He didn't give her a ring, and she's still not wearing one. But she is squealing about it, like, all the time."
Like, all the time
? Who is the source - an 18 year old Valley Girl? What a stupid story.
OUT AND ABOUT...
Magazines on the stands that you don't need to buy...thanks to me...
LIFE & STYLE -
This week it dishes on Brangelina's wedding plans, why Denise left Charlie and Lindsay's near death experience. Save your money. Brangelina are probably already married secretly, Denise left Charlie cuz he's a no good louse and Lindsay says she was bullimic and then she wasn't and then she is and then she wasn't. Who really knows except her toilet.
IN TOUCH
....discusses Brangelina's growing family and asks "Who's to Blame?" with the Nick/Jessica divorce. Why do they always have to blame someone? Why can't it be that two losers got married on a whim and were both too immature to work on the marriage?
BTW....I think it was Jessica's fault. Not sure who the mag is blaming. Go waste three bucks and find out if you need to know.
The ever accurate
STAR
magazine (cough, cough) says Lindsay's headed for rehab and that Kevin cheated on Britney.
And inside
PEOPLE
mag a great photo of Braddy, Angie and the kiddies. Her tummy is the cutest!
Speaking of tummies. Here mom to be Gwen Stefani and hubby Gavin. She manages to look like a stylish factory worker somehow.
Jennifer and Vince out on the town. Either he's trying to hide his face or throw up in the console tray. He gets points for finally changing his trucker shirt though.
Must be a full moon...Britney and Kevin go out for dinner sans the baby. Yeah, Britney, we're all scratching our heads too.
Her dress is pretty. OH MY GOD, Did I just give Britney a compliment? Why, yes I did...she might even be wearing deodorant. OOOH You know what that means? Kevin's getting some popazao tonight!
Cindy Crawford - the ex-supermodel shatters every hetero males dreams as she digs for gold at the gas station.
I thought this was Mary-Kate but, noticed no STARBUCKS grande supersize....so on second glance realized it was Kirsten Dunst. Not sure why she is wearing her grandmother's nightie.
My fave Canadian cuties...Rachel McAdams and Ryan Gossling who seem to be walking in a winter wonderland.
Newlywed Christina and her hubby go for some sushi. I love what she is wearing. See you can still be very casual and look like you made an effort on your appearance (Ahem, Britney y'all listenin?)
Kelly Ripa and her frozen forehead. Botox will do that to you folks.
I just want to strap a saddle onto Hilary Duff's back and feed her some straw. HOLY teeth batman!
Holy abs! Alicia Keys is looking very buff these days.
Victoria Beckham is going to just POOF and disappear any minute now. Bony spice is teetering on her last legs..literally. If her weight is from not eating, she needs help. If her weight is from having lots and lots and lots and lots of great sex with her husband David...then good for her. I take it all back.
Another one withering away...Nicole seems to find something rather amusing. That's the thing about pot. Everything is hilarious. You just don't know why it's so funny...it just is. Either that or everything is terrifying. You don't know why...it just is.
Uh..my second cousin who is twice removed on my great aunt's side likes to dabble now and then.
Nicole Kidman seen with a ring on her finger. Also seen touching her bracelet and holding up a fork. Shocking. That last one.
Angelina on the set of her new movie "The Good Sheperd"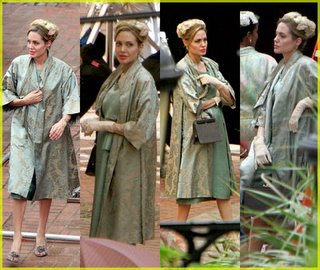 Orlando Bloom on the set of Pirates of The Carribean Two. Thanks to Jen for the photo!
No, Nick hasn't moved on already, he's just REALLY enjoying his guest stint on the WB show TWINS.
Meanwhile...what's Jessica hiding with this big floppy hat?
A shiner! Poor Jessica probably hit herself in the face with one of her boobs when she took off her bra. She usually had Nick do it for her.
Jordan promoting her new workout video. I wonder how many men bought this thinking it was a porn. Mind you, seeing Jordan do a squat ...
CUZ I SAID SO!