Celebrity W.T.F's Volume 125
Another one bites the dust.....Hilary Swank and actor husband Chad Lowe have separated after more than eight years of marriage, Access Hollywood has reported.
"Hilary and Chad have decided to separate, but they are hopeful they'll be able to get through this tough time," Swank's manager said in a statement released to Access Hollywood on Monday. There was no elaboration on the reason for the split.
And these two always looked so happy. I can't imagine why they would be parting ways. The only thing I can come up with is that those two Oscars she won caused all that trouble. Maybe Chad is having perfomance issues since the two golden men were put on the bedroom shelf?
Seriously though, this is sad. Eight years in a Hollywood marriage is a long time. Er,
was
a long time.
Britney Spears plans to make her comeback by singing on hubby Kevin Federline's new album. While she doesn't rap on the as-yet-untitled hip-hop album, she has agreed to sing backup on several tracks.
It's bad enough that Kevin can't sing - you would think they would ask a strong vocalist like Christina Aguilera to do back ups. (Not that I think anybody with any talent would agree to be on this album...thus, the reason Britney is doing it) I don't know if this is a good idea for Britney if she wants to make a come back. The most she'll get out of it is that she'll be able to keep an eye on Kevin.
Scarlett Johansson hates making red carpet appearances and only overcomes her stage fright by concentrating on the outfit she is wearing. She insists she is a private person and only appears outgoing in front of the press because she is keen to show off her latest figure-hugging dress.
Isn't that an oxymoron? Wearing a flashy dress to an event that you don't want to be noticed at?
Rachel Weisz has confirmed she's five months pregnant with movie-maker fiance Darren Aronofsky's baby. The actress who most recently played a pregnant woman in acclaimed movie The Constant Gardener last year, revealed all about her happy news on Friday night's
The Tonight Show
.
It's finally happened. The star of the MUMMY is becoming a mummy! Congrats!
Teri Hatcher has sworn off marrying again, after surviving two divorces.
Hatcher says, "I'm a big fan of monogamy, but I don't think I'll ever marry. I would have a spiritual ceremony in front of friends, but I don't think I need a wedding license. I did not marry bad guys, but ultimately I didn't make good choices."
This is the same women who says in every single interview that she can't find anyone to have sex with her. If they aren't even doing that with her what makes her think anyone would want to marry her? I'm confused.
Gwen Stefani is planning to design a range of stylish baby clothes for infants. The singer who is expecting her first child this year, is adding the line to her fashion label
Lamb
- because she believes kids should have options when it comes to looking good.
She says: "Babies have nothing to wear, so I am in the perfect position to rectify that."
Babies have nothing to wear? Ofcourse they do! Otherwise babies would be naked all the time and clearly....they are not. Although I think Gwen will design some really cool baby clothes, I am also sure they will be over priced and let's face it....does a 4 month old really care what the label says when they throw up all over their overalls?
Gwyneth Paltrow's daughter Apple is huge fan of Madonna.
Gwyneth revealed, "Apple loves to dance. She absolutely loves Hung Up by 'Dadonna' - that's how she pronounces Madonna. We have it on repeat in our house. She demands to hear it over and over and over."
Apple isn't the first fruit to be a Madonna fan. Have you ever to one of her concerts?
Uma Thurman, who left her ex husband Ethan Hawke after he allegedly had an affair, says the one thing she can't stand in a lover is someone who has no respect in the bathroom.
She told Britain's
Now
magazine , "It seems harder and harder to make contact with men, especially for mature women. But it's better to have a relationship with someone who cheats on you than someone who doesn't flush the toilet."
I guess if you are going to be with someone who doesn't flush the toilet than the best scenario would be for him to be having an affair. That way - it's
her
toilet he's stinking up.
Lindsay Lohan is rumoured to be dating Leonardo DiCaprio. The pair allegedly celebrated the New year with a midnight kiss after meeting at a New Year's Eve party. Lohan was hospitalized the next day after suffering an asthma attack but, had her friends sneak Leo in to see her. A source told Britain's Daily Star Sunday newspaper: "Leo visited every night. He would sneak in through a back entrance wearing a cap which covered his face. He really helped her get through the ordeal. And he showered her with gifts and chocolates to keep her spirits up."
I almost thought there was truth to this until it said that Leo gave Lindsay chocolate. Mind you, it never said she actually ate it so maybe...
Arnold Schwarzenegger received 15 stitches after a minor motorcycle accident on Sunday. He was riding his Harley-Davidson with 12-year-old son Patric when he reportedly collided with a car that was backing into a street. The two, who were both wearing helmets, were treated at a hospital in Santa Monica for minor cuts and bruises.
Here he was leaving the hospital. Probably thinking "Asta la vista baby!"
Red Hot Chili Peppers singer Anthony Kiedis is reportedly enjoying a holiday with a model more than half his age. The hunky rocer 43, is apparently having fun in the sun in St. Barts with 19-year-old model Jessica Stam, according to Page Six.
WTF? Two days ago they were reporting he was dating Lisa Ling. The 19 year old model is in the pic below. She looks really young in this photo. Anyhow, no pics of the two of them frolicking on the beach so for now let's assume it's a lie until we hear a story that Lisa Ling is pissed because he is cheating on her.
'Desperate Housewife' Felicity Huffman says she got so into character in her new movie where she played a pre-op male-to-female transsexual that she forgot she was a woman in real life!She explained, "Towards the end of filming, I walked into the ladies' room and went, 'Wow, I'm not supposed to be here', and I walked out. Then I said, 'Oh no, I am,' and walked back in again. It took me two goes before I said, 'OK, I'm actually a woman,' and walked into the ladies' room."
I would of peed my pants by then personally.
Star Jones Reynolds launched a blog last week to help promote her new book,
Shine : A Physical, Emotional, and Spiritual Journey to Finding Love
. Readers were encouraged to "post questions and co
mments on the blog. It only lasted 3 days. Seems that instead of commenting on the book, people were commenting on her weight, her husband - who has been rumored to be gay and saying awfully mean things about her.
I actually was on it this weekend and although I admit I am not a fan of hers, the comments were brutal! I had to stop reading them because they were turning my stomach.
Anyhow, here is her blog but, before you click...not only can you no longer make a comment but, all the comments have been deleted!
http://journals.aol.com/starjrblogger/Shinetheofficialblog/
Speaking of mean stuff....This is all over the web right now. Superimposed photos of Mariah or Mimi or whatever you call her. She is currently known as MOOriah because she has gained some weight recently. Remember, I didn't create the photo... and they wonder why so many celebrities have eating disorders! I don't think she is fat but, I will say that her clothes are WAY too small for her. That's the real problem.
Anyhow, if you want to see this bigger...click on the photo. (you sicko)
OUT AND ABOUT.....
Denise Richards just split for the second time from hubby Charlie Sheen and has been seen all over the place with this guy. Mr. X....Nobody know who he is but, they were seen holding hands. (He's probably her cousin visiting from rural Kansis but, hey let's just go with "mystery man" for now)
This is a very embarassing photo taken of Britney while she was eating. Coincidentally, this is reason #801 why I never want to be famous....can't get much worse right?
Wrong. Moments later Britney is seen shopping. I hope she's buying a bra and some pants with elastic.
Now for a nice sight....Prince William arrives at Military School
Tara Reid checks to see if her boobs are still there. Yep, now go look for your shoe.
Braddy with Zahara....she turned ONE yesterday! HAPPY BIRTHDAY ZAHARA!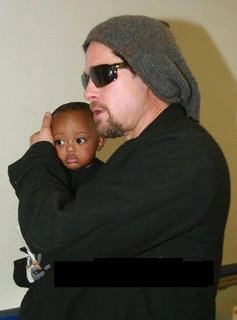 People think Shannon Doherty has no friends....well, here's one we know of for sure. That is, until Shannon gets pissed off.
Jessica Simpson looks dumb founded. Literally.
Penelope Cruz and Salma Hayek are good friends. Here they are leaving a Paris Hotel. I wonder how many men followed them thinking "Ooh la la..."
Reese Witherspoon at a movie award ceremony where she was honoured for her portrayol of June Cash.
Ashley and Mary Kate Olsen in a publicity shoot. They showered and everything! Must be important.
Orlando Bloom and girlfriend Kate Bosworth go to see Cirque De Soliel.
Charlize Theron and a scruffy Keanu Reeves pose for the cameras.
Heather Locklear looks foxy in a photo spread for a magazine called "ANGELINOS"- Love those extension on her but, what's with the dark roots? Isn't she the L'oreal hair colour spokesperson? I thought she said she was "worth it"
Pregnant Gwen meets up with a friend.
How cute...Heath Ledger with his wife Michelle and their little baby Matilda. Aw.
Russell Crowe with his little one Charles. That little boy is adorable!
Kate Moss at Disney World with her daughter Lily and a friend.
Jude Law walks his two dogs and his son Rudy. Do you think Rudy is asking daddy why they never keep a nanny for more than a week?
Julia Roberts carries Hazel while hubby Danny Moder tots around carrot top Phinneaus. Hey where's his hat?
Courtney Cox and her daughter Coco who looks like she is trying to get her mommy's attention.
Kurt Russell and Goldie Hawn at the beach. Kurt looks more pregnant than Gwen Stefani does....
Queen Latifah hams it up for the cameras.
Kelly Clarkson is bat girl.
Nicolette Sheridan and Michael Bolton make out like a lovesick teenager and her boyfriend who was just released from prison. Notice the tabloid mag on the dashboard.
As Jordan (The blonde with the big boobs) tries to find a spot to tan, all the other women mutter under their breaths... "Please, please God do not let her sit beside me."
Speaking of blondes with big boobs...Here's porn star Jenna Jameson at the AVA ceremony. Yes, it stands for what you think it does. ADULT VIDEO AWARDS....yes...even porn stars get rewarded now for their performances in movies. Hey, it's "hard" work ya know.
Brad Pitt checking his plane before he flies it.
And just because....here' s another shot of him walking away. So now we can check him out.
CUZ I SAID SO!