Celebrity W.T.F's Volume 124
Pink and her fiancé Carey Hart, wed in Costa Rica on Saturday, PEOPLE has been told exclusively. More than 100 guests (including Lisa-Marie Presley) attended the ceremony, which was held on the beach. "We just love the beach, so we knew we wanted it to be at the beach," Pink told PEOPLE magazine. Adds Hart, "We wanted it very fun and non-traditional. We're spiritual, but we're not religious. It was about being with our closest friends and family and having a very fun and loose party."
I didn't realize how tattoed this guy really is! I guess Pink doesn't mind sharing his body with all those other colours.
Gwyneth Paltrow says she would rather be with her 1-year-old daughter than paying herself too much attention like her fellow Hollywood stars.
She says, "Since I've had my baby I don't really have special treatments any more all that time away from her makes me feel too guilty. And the idea of going to a spa, putting on a robe, having tea it drives me nuts! I feel like I'm wasting my life."
I know how she feels every time I have to report what she says....Mommy dearest thinks she's better than everyone else because she had a baby? In 15 years, poor Apple is the one who is going to be running to get "treatments" and not the kind at a spa.
Angelina Jolie 's mother Marcheline Bertrand is battling cancer.
Her mom has been quietly battling the disease for three years, according to US tabloid National Enquirer, but things took a turn for the worse late last year and she had to be hospitalised. A source close to Angelina tells the publication that Jolie flew to her mother's bedside after she checked into a Los Angeles hospital. The 55-year-old former actress, who was married to Jolie's estranged father Jon Voight in the 1970s, reportedly had to undergo surgery. The source says, "Marcheline isn't just Angelina's mother she's her best friend too."
If this was Jennifer Aniston's mother, she'd be milking this story any chance she got.
Nick and Jessica have put their home that made them famous up on the market. For just $3.75 million you can own their 5 bedroom, 6,500 square-foot Mediterranean-style house.
There's a shitload of bad memories in there but, the pool, movie screening room and a recording studio totally outweigh them.
Sarah Jessica Parker and Matthew Broderick's son, James likes to be called Ellen. The tot fell in love with comedienne/talk show host Ellen DeGeneres and now he wants to claim her name for himself. Mom Sarah Jessica Parker recently shared with Ellen, "He heard the music and ran in and asked, "Who is that lady with the blond hair? I said, 'That's Ellen.' So he said, 'I would like to be called Ellen from now on! I like her."
All boys wish they were lesbians though...don't they?
Mariah Carey is desperate to move back into her lavish New York residence, which was flooded last April and has even planned a few extravagant improvements. But, the work is taking so long to complete - the poor Diva has been forced to issue an unusual appeal. She says, "It's been so many months. I've been on radio stations saying, 'If you're a builder please hurry up and finish.' "I plan to get a hot tub on my roof terrace. Hopefully next summer it'll be the place to hang out."
I bet she says "Hurry up and finish" quite a bit. She doesn't like to have her hair out of place you know.
Lisa Ling and Anthony Kiedis a new couple? That's the cyber rumor floating around the internet....we'll find out soon enough. If it's true ...Lisa's getting
Californication
at it's finest!
Sienna Miller has filled her house with artwork she has created by rubbing her paint-covered breasts over canvases. Sienna had to recreate bizarre scenes of the alternative artistry such as this for the movie FACTORY GIRL where she plays Andy Warhol's muse. Sienna admits she was so impressed by her efforts, she hung the paintings all around her home. She quips, "I've got rooms covered in t**s after going back to doing what I do best -getting naked."
In fact she's so obsessed with boobs that she's still dating one despite his cheating ways...
British model Jordan has dished out some advice to new moms. She recently gave birth to son, Junior, with husband Peter Andre and says there's no excuse for untamed locks and thinks women should freshen up their image as soon as they leave the hospital.
She said: "Having kids is no excuse for letting yourself go."
Nothing says "freshening up your image" like getting two mammoth mounds of saline, Miss Clairol shade no 34 -
porn star blonde
and a nanny to watch the new kid so you can show it all off.
Jennifer Aniston has laughed off rumours she keeps her blonde locks shiny by rubbing powdered aspirin into her scalp. She says she has heard some bizarre stories about herself in the media, but insists the aspirin one made her laugh the most.
What happened to her vow of silence? I knew that was too good to be true. The only reason this story interested me in the first place is because I saw the words
ANISTON
and
ASPIRIN
in the same sentence.
OUT AND ABOUT...
Britney Spears in Las Vegas with her mom Lynne and dad, Jamie. Jamie and Brit's brother, Brian launched a brand new software program founded by Daddy Spears making it easy to run a professional poker tourney in your own home!
Here they all are but, missing is little sister Jamie-Lynn (who I suddenly had a revelation that her name is the mom and dad's name mixed together..) Anyhow, I panicked thinking poor Jamie-Lynn may be watching Preston along with slimeball Kevin but, later found out Kevin was at this function too. Just not in any pictures. I wonder what he was doing while the family was posing for photos. I wonder how many people's wallets went "missing" too.
Sarah Jessica Parker poses for a British Magazine. I totally love her hair like this. The colour is gorgeous.
Halle Berry graces the pages of IN SYLE magazine.....
Nicole Richie on the cover of LUCKY magazine. How ironic seeing as these days she looks like she's LUCKY to be alive.
Alicia Keys looking absolutely stunning with a capitol S...at a movie premiere.
Christina Aguilera went to see KING KONG with her hubby this weekend.
Sandra Bullock and hubby Jesse James hung out on their beachfront property.
Who's the chick with the great bod?
Why it's.....
Jessica Alba frolicking with her boyfriend while on vacation. He's not so bad himself.....
Mischa Barton was spotted.
Literally.....I know that's gross but, hey I just report the news people - I don't take the pictures.
Halle Berry shopping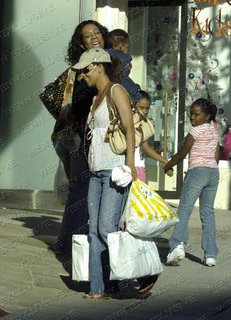 Beauty and the Beast Howard Stern and his girlfriend leave the LARRY KING show.
Nicole Richie showed up to promote a YAHOO event.
Is it just me or she starting to look like a white Star Jones??? Just in the facial area....
Eva Longoria hangs out with Mario Lopez and his whole family. They are Mexican...I suppose she is trying to prove she is not a racist after making that comment to the cop last week. At first I thought they were leaving a screening of HAIRSPRAY and a cast member was stalking them (What's with the chick and the bow in her hair?)
Jessica Simpson leaves a restaurant all smiles cause she didn't have to cook.
Brittany Murphy and Rose McGowan hang out together.
Fergie from the BLACK EYED PEAS looking like she duct taped her legs...yikes those boots are awful!
She should of duct taped her pants instead. Crack is whack!
Poor Ellen looks extremely uncomfortable here. Tom is probably pointing out that there are aliens in the room. Katie looks like she is constipated and Ellen desperately wants her panic room!
Why is Brooke Burke hanging out with the BURGER KING? Cuz...they are filming a commercial that's why.
Oh...and she likes his whopper.
CUZ I SAID SO!