Celebrity W.T.F's Volume 82
Orlando Bloom denies he is having an affair with co-star Kirsten Dunst. The actors, who play lovers in the new movie "Elizabethtown," have been spotted on numerous occasions together fuelling rumors that that Orlando is cheating on girlfriend Kate Bosworth's. Orlando insists he would have come clean by now if he was cheating.
He said, "Rumors are the price you pay for a great job and lifestyle, like tax. If you want to screw around, it's your choice and you accept it when you're caught."
If I were his girlfriend Kate, the ONLY right answer would be "Why on God's green earth would I cheat on my lovely girlfriend?"
Maybe you can use that answer next time Orlando.
Don't mention it.
Here's Orlando and co-star Kirsten.
Jessica Simpson says she's visited a therapist to help deal with the stressful year she's had.
"I respect knowledge of the psyche, I would be a therapist if I weren't an entertainer."
she tells Teen People in its December-January issue Jessica deals with the pressure of fame, rumors about her marriage and other people's expectations of her by writing in her diary. "It's a way for me to know myself, my problems and my issues. If I don't do this, I'll push everything back until I explode."
That's apparently how her breasts deal with stress also. Pushing eveything back until they explode.
David Beckham's BMW has been stolen in Madrid, Spain. The $180,000 armor-plated X5 was stolen while in the care of one of Beckham's employees. Unfortunately, Beckham's assistant had forgotten to switch on the vehicle's tracking system, so police are still looking for the car.
A friend tells Britain's the Sun newspaper, "He is gutted. David loves this car."
It was a chick who stole it.
Think about it, she gets to meet. She also gets a prison term but, hey it's probably worth it.
Actress Jessica Alba reportedly may have a thing for adult videos according to the The National Enquirer. Here is what the Enquirer reports:
"Male browsers at Hollywood's
Red Hot
Video store did a double-take, says a source, when sexy star Jessica Alba came in and bought two movies : Fetish Factor 2, Neo Pornographia, Latex... and a spanking video titled Fetish Island!"
Alba's publicist denies this story, the Enquirer reported.
Just what every heterosexual man needs to hear.....women that look like this
like
porn.
Great.
Shocking rocker Marilyn Manson's fiance,Dita Von Teese, who is a famous burlesque peformer -has transformed Marilyn's music from dark Satanic tracks to heartfelt love songs.
Marilyn confesses the romance has had a huge effect on the theme of his untitled upcoming disc.
He says, "The lyrics have the most romantic feel to them. This is a desperate and crippling desire for romance - not in the romance sense of a Reese Witherspoon movie, but in the sense of living your life like a film and enjoying it that way. I've found a woman I can relate to. "
Yes, he certainly has. They even look good in the same shade of cherry black lipstick!
She is the pretty one.
Hilary Duff is set to scare her fans as the possible star of the next 'Poltergeist' movie.
Hilary is the first choice to take over the role of the spooky Carol Anne Freeling from late child star Heather O'Rourke in the new movie 'Poltergeist: Kayeri.'
Hilary doesn't have to be in a scary film soon to frighten kids.
Look at her! She's like 80 lbs now.
Christian Slater apparently fell off the roof of Paris Hilton's neighbor's house during a weekend party at the West Hollywood home of the hotel heiress. Apparently, he made his climb to look at some people who complained about the noise. He then landed in the bushes and was "not injured, not hurt, not arrested," Los Angeles Police Department Sgt. Karen Leong tells the New York Post. She denied reports that officers used a Taser gun on the actor. "Not true," she told the paper.
What's the big deal about falling off a roof? He falls off the wagon ALL the time.
Britney Spears has been asked to write a Kabbalah children's book. She became a follower of the mystical Jewish faith after being introduced to it by Madonna and now will follow in her Madonna's author footsteps after reportedly being approached by representatives of the church to pen a story inspired by the religion's teachings. Britney is said to be 'swell' on the idea.
Britney shouldn't stop there. She should write self help books. I am sure we could all learn a little something from her...books like...
RELATIONSHIPS FOR DUMMIES
Learn the blonde singers secrets for snagging great husbands like Kevin Federline.
Learn how to keep his interest with the more interest you make in your bank account.
Learn how to entice a man based on your looks alone and then learn how to desperately cling on to him as your looks fade quickly.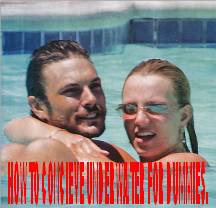 HOW TO CONCEIVE UNDERWATER FOR DUMMIES
Britney will teach you how to impregnate yourself discreetly underwater while nobody else is the wiser. Including the father.
White Tic tacs really do look so much like the Birth Control pill!
PARENT TEACHER INTERVIEWS FOR DUMMIES
Britney gives great tips for when your child is older and you are meeting with the teacher.
They include, the right sunglasses to wear to cover up the fact you are stoned.
She also suggests hubby and wife wear matching outfits like her and Kevin do. It gives a sense of harmony in the home.
LOSING THE BABY FAT AND THE LOSER HUSBAND....FOR DUMMIES
Britney is still working on this one but, she can do it!
She'll lose all the pregnancy fat and an extra what....160lbs if she dishes Kevin out too.
Now, that's a way to keep the weight off.
Woody Allen has described his relationship with his wife Soon-Yi Previn, which caused a huge scandal and wrecked his ties with former longtime companion Mia Farrow, as "one of the truly lucky things that happened to me in my life."
In an interview with Vanity Fair, Allen says that Farrow's discovery of the nude pictures of Soon-Yi he had in his apartment was "one of the great pieces of luck in my life.If somebody told me when I was younger, 'You're going to wind up married to a girl 35 years younger than you and a Korean not in show business'...I would have said, 'You're complete crazy,'" he added.
"I'm sure there are things that I might have done differently," he says.
The man is sick. While he's counting his lucky stars, Soon - Yi is wondering when the awful Korean curse put on her by her evil stepmother is going to be lifted.
Monica Bellucci has no intention of moving to Hollywood to further her acting career, because she hates the way women are treated by the American film industry. The Passion Of The Christ actress refuses to conform to the obsession with youth.
She says, "I could never live there. They are obsessed with youth and beauty even more than us. There is this thing in America where actresses reach 40 and go mad. The film industry wants all these young people. They also like a different sort of woman (to me). I will never be skinny. I also had a child a year ago, and I have been lazy. I love to eat. Who cares? I am natural."
Monica is Italy's version of Angelina Jolie. You can see why.
OUT AND ABOUT....

Tara Reid looking like she just remembered that night in rural Utah with the football team and the goat.
Mariah Carey doing her best Michael Jackson imitation.....hanging her "babies' over the balcony to fans below.
Kevin Federline doing something he shouldn't most likely.
Kirstie Alley has lost fashion sense along with all that weight!
Nicole Ritchie on the cover of SEVENTEEN magazine.
Black Eyed Peas at MTV.
Justin Timberlake and his woman Cameron Diaz get their groove on at a wedding!
Any REUNION fans? New show this Thursday at 9pm!!! No more reruns!
Speaking of Reunion....Pamela Anderson and EX boyfriend Kid Rock take her kids to a carnival.
She sure likes to recycle her own men.